Are your kiddos needing a little bit of help with those tricky CVC words?  Here are a few of my favorite ideas…
This is a tried and true activity that I use in small groups for pushing sounds.  NO writing involved, just pushing the sounds.  I use glass gems for this – green, yellow, and red.  Green for the first sound – GO! Sometimes children that are struggling with CVC words are also struggling with the concept of the left-right sweep.
If you want to spice it up a little bit, use some push lights:
These word sliders are my ALL time favorite….
I use them in whole group and in my intervention and guided reading groups.  They are fantastic for quick daily practice.
I love this idea from Kathy Griffin…
These are the little Keurig cups….I can also envision doing this was with mini dixie cups.  Could be a super fun word work center?!
And check out this fun idea from Heidi of Heidi Songs…
It's also fun to make practicing CVC words a whole body experience:
When we work on CVC words, I also have the children use their "sound arm."  We say the first sound and touch our shoulder, say the second sound and touch our elbow, then say the third sound and touch our hand.  Finally we go back up to our shoulder and blend the sounds together and slide down our arm.
Of course you can adapt it to using other parts of your body. i.e. Head, waist, feet, and then POP up and blend the sounds and say the word.
We also LOVE this activity!  The children get to practice writing CVC words, and get some great brain breaks!  I  have the children sit at their tables with whiteboards and markers to do this activity.
This is another super fun activity that my kids love to do, and you can do it for as little or as long as you like!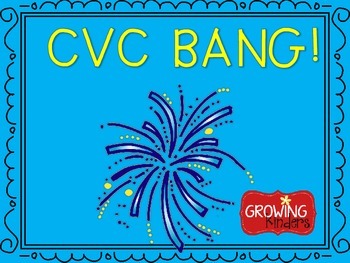 I've added it to my Teachers Pay Teachers store, and you can download it for FREE!
If you are still in need of more CVC ideas, check out my CVC packs below – I've discounted all of them to $5 each.  I haven't finished the short u pack, but gosh, I hope to do it soon! Just add it to my never ending to do list!!
The ideas in these packs are not just for intervention – there are tons of great activities to use in small group, whole group, one-on-one, and for work work activities for Daily 5 or Literacy Centers.
I'm having another giveaway tonight on my Facebook page! Be sure to check it out!